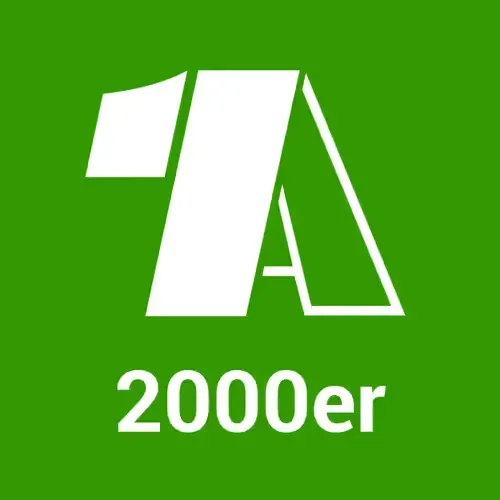 Listen - 1 A - 2000er von 1A Radio
1A Radio – Alle Hits – jederzeit, jeden Tag! - Home | 1A Radio
http://www.1aradio.com/
Das sind die Stars des neuen Jahrtausends: Pop, Rock und Dance der 2000er im besten Mix.
1A Radio bietet für jeden Geschmack das richtige Programm: Schlager, Volksmusik, aktuelle Hits, Oldies der 60er, 70er, 80er und 90er – hier
1A Radio is a popular radio station based in Germany that plays a diverse range of music from the 2000s. With a focus on adult contemporary, dance, hip-hop, hits, pop, R&B, rock, urban and 00er music genres, 1A Radio caters to a wide audience with different musical tastes. Broadcasting exclusively in German, the station provides its listeners with non-stop entertainment and the best 2000s hits, making it the perfect choice for those who want to relive the memories of that decade. Whether you're a fan of pop, hip-hop, rock, or any other genre, you're sure to find something to enjoy on 1A Radio. Tune in now on AllRadio.Net and experience the best of the 2000s all over again!
You can listen :
Beyoncé,
Britney Spears,
Rihanna,
Coldplay,
LINKIN PARK,
Green Day,
Foo Fighters,
The Killers,
P!nk,
Justin Bieber,
Bruno Mars,
Katy Perry,
Miley Cyrus,
Taylor Swift,
Ariana Grande,
Drake,
Post Malone,
The Weeknd,
Lil Nas X,
Ed Sheeran,
Sam Smith,
Dua Lipa,
Usher,
Justin Timberlake,
Nelly Furtado,
Christina Aguilera,
Eminem,
50 Cent,
Kanye West,
JAY-Z,
OutKast,
Missy Elliott,
Jennifer Lopez,
Mariah Carey,
Alicia Keys,
Red Hot Chili Peppers,
Maroon 5,
Black Eyed Peas,
Lady Gaga,
Kelly Clarkson,
Avril Lavigne