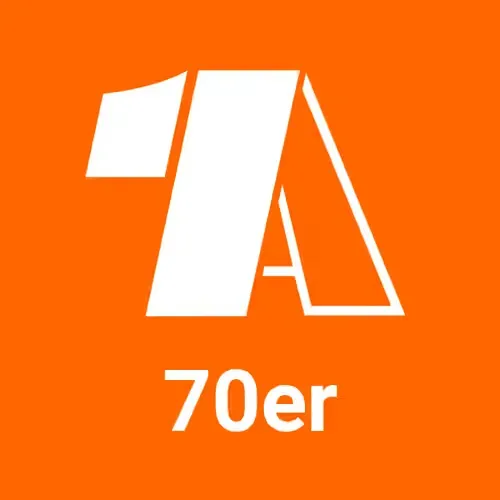 Listen - 1 A - 70er von 1A Radio
1A Radio – Alle Hits – jederzeit, jeden Tag! - Home | 1A Radio
http://www.1aradio.com/
Nonstop Pop, Rock und Disco - einfach alle Hits aus den 70ern.
1A Radio bietet für jeden Geschmack das richtige Programm: Schlager, Volksmusik, aktuelle Hits, Oldies der 60er, 70er, 80er und 90er – hier
"1A Radio - 70er is a radio station based in Germany, dedicated to playing the best music from the 1970s. This radio station offers listeners a journey back in time to the golden era of music with its curated playlist of classic rock, disco, goldies, oldies, pop, and rock. The radio station broadcasts its programs in the German language, catering to audiences who appreciate the music from this decade. Tune in to 1A Radio - 70er to relive the magic of the 1970s, with the best hits from the era, playing 24/7. Whether you're a fan of ABBA, The Bee Gees, or Led Zeppelin, you'll find something to love on 1A Radio - 70er. Visit AllRadio.Net to listen to this classic radio station today!"
You can listen :
Bee Gees,
David Bowie,
Deep Purple,
Donna Summer,
Elton John,
Fleetwood Mac,
Led Zeppelin,
Michael Jackson,
Pink Floyd,
Queen,
Stevie Wonder,
The Beatles,
The Doors,
The Rolling Stones,
The Who,
Eagles,
ABBA,
Earth, Wind && Fire,
Gloria Gaynor,
James Brown,
Janis Joplin,
Rod Stewart,
Supertramp,
Tina Turner,
Tom Jones,
Van Morrison,
Aretha Franklin,
Barry White,
Bob Marley,
Chic,
Creedence Clearwater Revival,
Electric Light Orchestra,
Lynyrd Skynyrd,
Neil Young,
The Kinks,
The Temptations,
Three Dog Night,
War