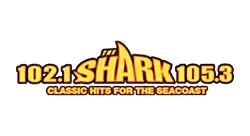 Listen 102.1 & 105.3 The Shark
102.1 && 105.3 The Shark – Seacoast's Leader In Classics – Portsmouth Classic Hits Radio
https://shark1053.com/
102.1 && 105.3 The Shark radio, a Townsquare Media station, plays the best classic hits music in Portsmouth, New Hampshire on WSHK-FM.
102.1 & 105.3 The Shark is a radio station located in the United States of America that brings you the best in classic hits. With its strong signal, you can tune in and enjoy your favorite tunes from the 60s, 70s, 80s, and 90s. Whether you're in the car, at home, or at work, The Shark has got you covered.

The Shark's programming is focused on providing its listeners with the perfect mix of classic hits, ensuring that there is something for everyone. From rock to pop, and soul to funk, The Shark has it all. The station's team of experienced DJs carefully curates the music selection, bringing you only the best of the best.

In addition to its great music, 102.1 & 105.3 The Shark is known for its friendly and engaging on-air personalities. Whether you're tuning in for the music, or for the witty and entertaining banter, The Shark is sure to keep you entertained.

The station broadcasts in English, making it accessible to a wide audience. With its strong commitment to quality and its dedication to providing the best in classic hits, 102.1 & 105.3 The Shark is the perfect choice for anyone who loves great music and a good time.

So, why wait? Tune in to 102.1 & 105.3 The Shark today and experience the best in classic hits. You won't be disappointed!
You can listen :
Queen,
AC/DC,
The Beatles,
Led Zeppelin,
Pink Floyd,
The Rolling Stones,
Journey,
Bon Jovi,
Aerosmith,
Van Halen,
Guns N' Roses,
The Who,
Fleetwood Mac,
Bruce Springsteen,
Def Leppard,
Foreigner,
The Police,
David Bowie,
Billy Joel,
Tom Petty && The Heartbreakers,
Boston,
ZZ Top,
Lynyrd Skynyrd,
The Cars,
Heart,
Bad Company,
Joan Jett && the Blackhearts,
Styx,
The Doobie Brothers,
Steely Dan,
Rush,
The Kinks,
Cheap Trick,
REO Speedwagon,
Electric Light Orchestra,
Chicago,
Supertramp