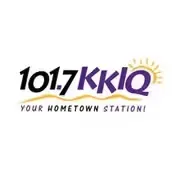 Listen Your Hometown Station!
101.7 KKIQ
https://www.kkiq.com/
Welcome to 101.7 KKIQ, one of the most popular radio stations in the United States! Located in the heart of the country, KKIQ is a well-established station that has been serving the community for years with its unique blend of adult contemporary music. The station's goal is to entertain and inform its listeners with a diverse selection of music, news, and other content, all designed to make your day a little bit brighter.

At KKIQ, we believe in the power of music to bring people together. That's why we've carefully curated our playlist to include a wide range of genres and styles, all within the adult contemporary genre. Whether you're a fan of classic rock, pop, or soul, you're sure to find something you love on KKIQ. Our talented DJs work tirelessly to bring you the latest hits and hidden gems, ensuring that our playlist always feels fresh and exciting.

In addition to music, KKIQ also provides its listeners with important news and information. We believe that it's our duty to keep our listeners informed about the latest happenings in their local community, as well as the world at large. Whether you're tuning in for the latest weather update, to catch up on the day's news, or simply to hear about local events and happenings, KKIQ has you covered.

Finally, we'd like to extend a warm welcome to all of our listeners. Whether you're a long-time fan or a newcomer to the station, we're thrilled to have you along for the ride. If you have any questions, comments, or feedback, please don't hesitate to reach out to us. We're always here to help, and we're committed to making 101.7 KKIQ the best radio station it can be. So sit back, relax, and enjoy the music on 101.7 KKIQ!
You can listen :
Adele,
Ed Sheeran,
Bruno Mars,
Taylor Swift,
Shawn Mendes,
Katy Perry,
John Mayer,
Sam Smith,
Dua Lipa,
Coldplay,
Whitney Houston,
Michael Jackson,
Madonna,
Céline Dion,
Barbra Streisand,
Elton John,
Billy Joel,
Stevie Wonder,
Beyoncé,
The Chainsmokers,
Zedd,
Jonas Brothers,
Lewis Capaldi,
Billie Eilish,
Maroon 5,
P!nk,
Justin Timberlake,
Kelly Clarkson,
Alicia Keys,
OneRepublic,
Train,
Christina Aguilera,
Mariah Carey,
Jennifer Lopez,
Sara Bareilles,
Sia,
Charlie Puth,
Niall Horan