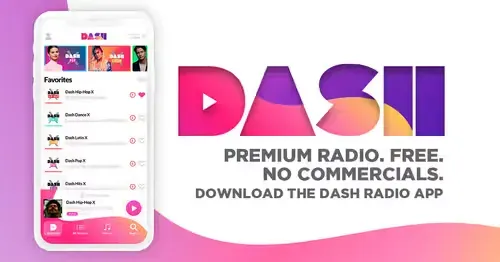 Listen Streaming by Securenet Systems Cirrus(R)
Dash Radio
http://www.dashradio.com/
100% Free Music. More Variety. Zero Commercials. The Best DJ's && Stations. No BS
Welcome to 10Dash20, an American radio station available on AllRadio.Net! Our station specializes in playing popular music from the 10s and 2010s, as well as adult contemporary, contemporary, and rock hits. Our programming is carefully curated to offer a mix of current and classic songs, so listeners can enjoy a wide range of genres and decades.

In addition to our diverse music selection, we are proud to be a part of the Dash Radio network, which offers a unique platform for independent and commercial-free radio stations. As part of this network, we strive to provide high-quality audio and engaging content that keeps our listeners coming back for more.

Whether you're in the mood for pop, rock, or teenies hits, our station has you covered. Our programming is available exclusively in English, so we welcome listeners from around the world to tune in and enjoy our carefully selected music. Thank you for choosing 10Dash20 on AllRadio.Net!
You can listen :
Adele,
Ariana Grande,
Bruno Mars,
Camila Cabello,
Cardi B,
Coldplay,
Drake,
Ed Sheeran,
Jason Derulo,
Justin Bieber,
Katy Perry,
Lizzo,
Miley Cyrus,
P!nk,
Post Malone,
Rihanna,
Sam Smith,
Shawn Mendes,
Taylor Swift,
The Chainsmokers,
The Weeknd,
Charlie Puth,
Halsey,
Imagine Dragons,
John Legend,
Lady Gaga,
Maroon 5,
One Direction,
Selena Gomez,
Sia,
Twenty one pilots,
Usher,
Zara Larsson,
ZAYN,
5 Seconds of Summer,
Fall Out Boy,
OneRepublic,
Panic! At the Disco