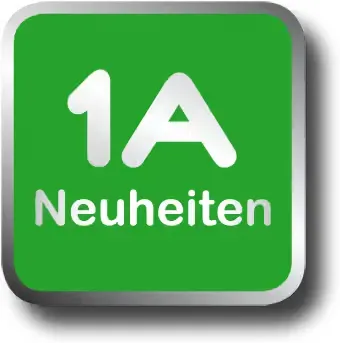 Listen radio SAW-Neuheiten
1A Neuheiten | 1A-Webradio.de
https://www.1a-webradio.de/neuheiten
1A Neuheiten is a German radio station that specializes in new music across various genres. The station was founded with the aim of providing a platform for up-and-coming musicians and promoting fresh, innovative sounds to the German music scene. The station broadcasts in German, making it accessible to a wide audience within the country.

The station's focus on new music means that listeners can expect to hear the latest tracks and emerging artists across various genres, including pop, rock, indie, electronic, hip-hop, and more. The station's team of experienced DJs and music experts are always on the lookout for the hottest new tracks, and they regularly feature interviews and live performances with rising stars from the German music scene.

1A Neuheiten's programming is carefully curated to ensure that listeners get a diverse and eclectic mix of new music. The station is known for its commitment to showcasing a broad range of styles and sounds, from indie rock and electronic music to singer-songwriter ballads and experimental pop. This means that there's something for everyone, whether you're a die-hard music fan or just looking for something fresh and exciting to listen to.

In addition to playing the latest new music, 1A Neuheiten also provides its listeners with a wealth of information and context about the artists and their music. The station regularly features interviews with musicians, producers, and other industry insiders, as well as reviews, news, and commentary about the latest trends and developments in the music world.

Overall, 1A Neuheiten is a must-listen for anyone who loves discovering new music and staying on the cutting edge of the German music scene. With its commitment to new sounds and emerging artists, it's a vital resource for music fans who want to stay ahead of the curve and be the first to discover the next big thing.
You can listen :
Billie Eilish,
The Weeknd,
Ariana Grande,
Dua Lipa,
Doja Cat,
Ed Sheeran,
Taylor Swift,
Justin Bieber,
Shawn Mendes,
Post Malone,
Khalid,
Camila Cabello,
Lewis Capaldi,
Tones And I,
The Killers,
Lil Nas X,
Lorde,
Olivia Rodrigo,
Tate McRae,
Clairo,
Glass Animals,
Måneskin,
Bastille,
Imagine Dragons,
Of Monsters and Men,
Vance Joy,
The 1975,
Hozier,
Maggie Rogers,
Halsey,
Bakar,
Phoebe Bridgers,
Megan Thee Stallion,
Anderson .Paak,
Machine Gun Kelly,
Dermot Kennedy,
Tom Grennan