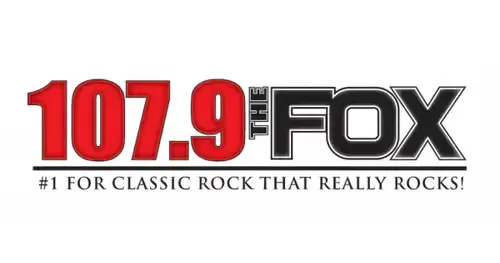 Listen KPFX-FM // 107.9 The FOX
107.9 The Fox - #1 For Classic Rock That REALLY Rocks!
https://www.1079thefox.com/
Fargo-Moorhead's #1 Station For Classic Rock That REALLY Rocks! Wake up with Robbie, Dave && Moose In The Morning and enjoy the best Classic Rock all day long!
Welcome to the page for "107.9 The Fox", an iconic radio station based in the United States of America. With a focus on classic rock, this station has been a staple of the American music scene for many years.

Listeners can expect to hear all of their favorite classic rock hits from the 60s, 70s, and 80s, as well as deep cuts and lesser-known tracks from some of the greatest artists of all time. From Led Zeppelin to The Rolling Stones, The Eagles to Fleetwood Mac, "107.9 The Fox" has it all.

The station broadcasts in English, making it accessible to a wide range of listeners across the country. Whether you're tuning in on your morning commute or relaxing at home on the weekend, "107.9 The Fox" is the perfect soundtrack to your day.

In addition to playing great music, "107.9 The Fox" also features engaging and informative on-air personalities who keep listeners entertained and informed throughout the day. From breaking news and traffic updates to celebrity gossip and pop culture news, there's always something interesting to hear on this station.

So whether you're a die-hard classic rock fan or simply someone who appreciates great music, "107.9 The Fox" is a radio station that you won't want to miss. Tune in today and experience the magic of this iconic American institution.
You can listen :
AC/DC,
Aerosmith,
Bon Jovi,
Def Leppard,
Eagles,
Fleetwood Mac,
Foreigner,
Guns N' Roses,
Journey,
Led Zeppelin,
Metallica,
Mötley Crüe,
Nirvana,
Ozzy Osbourne,
Pink Floyd,
Queen,
Scorpions,
The Beatles,
The Doors,
The Who,
Van Halen,
Black Sabbath,
Boston,
Heart,
Kansas,
Lynyrd Skynyrd,
Red Hot Chili Peppers,
REO Speedwagon,
Steve Miller Band,
Styx,
Supertramp,
The Guess Who,
The Jimi Hendrix Experience,
ZZ Top,
Bad Company,
Creedence Clearwater Revival