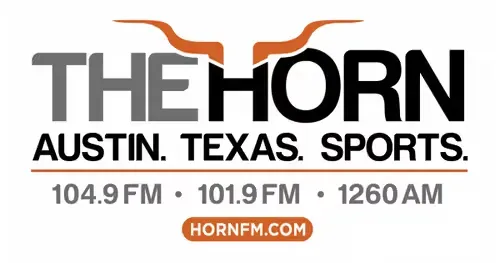 Listen 104.9 The Horn Austin Sports Talk
Horn FM
https://hornfm.com/
Where Austin Talks Sports
104.9 The Horn Austin Sports Talk is a radio station located in Austin, Texas, USA. It is a station dedicated to sports talk and covering all the latest sports events and games from the city and the surrounding areas. The station has a strong focus on the University of Texas at Austin and its sports teams, including the Longhorns.

With its headquarters in Austin, 104.9 The Horn Austin Sports Talk is committed to delivering the best in local sports news, commentary, and analysis. The station is known for its lively and engaging sports talk programs, hosted by some of the most knowledgeable and passionate sports experts in the area. From lively debates and discussions to expert analysis and in-depth interviews with local athletes and coaches, 104.9 The Horn Austin Sports Talk offers a unique and comprehensive look at the world of sports in Austin.

The station is also dedicated to covering the biggest sporting events and games, including live play-by-play coverage of Longhorns games, as well as major national and international sporting events. Whether you're a die-hard sports fan or just looking for the latest news and scores, 104.9 The Horn Austin Sports Talk is the perfect choice for sports fans in Austin and beyond.

In addition to its strong sports programming, 104.9 The Horn Austin Sports Talk also offers a variety of other programming, including live music shows, weather updates, and community news and events. The station is broadcast in English and provides listeners with a diverse range of programming to suit their interests and needs.

So if you're looking for a radio station that is dedicated to sports and all things Austin, tune into 104.9 The Horn Austin Sports Talk on AllRadio.Net. You won't be disappointed!