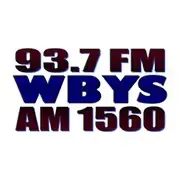 Listen Streaming by Securenet Systems Cirrus(R)
HOME | 94.1 BYS / Q 98.1
https://www.1560wbys.com/
1560 WBYS is a radio station located in the United States of America that offers a diverse range of programming to its listeners. The station primarily broadcasts news, talk, and rock music, making it a popular destination for those who enjoy a mix of informative content and lively entertainment.

The station's news programming covers a variety of topics, including local, national, and international news, as well as breaking news stories as they happen. In addition to news, WBYS also offers a range of talk programming, featuring insightful interviews with experts and thought leaders in a variety of fields.

Listeners who enjoy rock music will also find plenty to love on WBYS. The station plays a wide variety of rock music, from classic hits to contemporary tracks, ensuring that there is something for everyone. Whether you're a die-hard rock fan or simply enjoy the occasional rock anthem, you're sure to find something you love on WBYS.

All programming on 1560 WBYS is broadcast in English, making it an accessible option for English-speaking listeners across the country. The station's skilled team of hosts and presenters ensures that each program is engaging, informative, and entertaining, making it an excellent choice for anyone looking for a high-quality radio experience.

Overall, 1560 WBYS is a top choice for anyone looking for a diverse mix of news, talk, and rock music. With its wide range of programming and skilled team of presenters, it is a radio station that is sure to entertain, inform, and inspire listeners from all walks of life.
You can listen :
Bruce Springsteen,
The Rolling Stones,
U2,
Queen,
Led Zeppelin,
The Who,
AC/DC,
Guns N' Roses,
Metallica,
Pink Floyd,
Journey,
Aerosmith,
The Doors,
Van Halen,
Bon Jovi,
Def Leppard,
Foreigner,
Kiss,
The Beatles,
The Beach Boys,
Elton John,
Billy Joel,
Fleetwood Mac,
Rush,
Tom Petty && The Heartbreakers,
Boston,
Kansas,
REO Speedwagon,
Styx,
Alice Cooper,
Cheap Trick,
John Mellencamp,
The Guess Who,
Steely Dan,
The Doobie Brothers,
ZZ Top,
Lynyrd Skynyrd,
Creedence Clearwater Revival