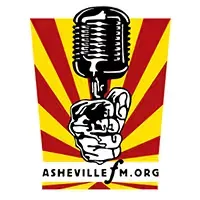 Listen Asheville FM - WSFM-LP 103.3
103.3 Asheville FM
https://www.ashevillefm.org/
Asheville FM is a volunteer-based, grassroots community radio station. We want to hear music, news, and the unusual all produced right here in our neck of the woods. We want to hear sounds from around the world, discerned and distilled just for us by our neighbors. We want to help make connections between diverse groups and support the local economy of ideas.
103.3 Asheville FM is a radio station located in the heart of Asheville, North Carolina, United States of America. It is a community-driven station that caters to a diverse audience, offering a wide range of music genres, including alternative, blues, country, eclectic, experimental, folk, hip-hop, jazz, rock, and talk.

This station is committed to promoting local musicians and artists, and provides a platform for them to showcase their talents to the world. The station is also dedicated to fostering community engagement, with programs and shows that reflect the unique interests, perspectives, and cultures of the local community.

In addition to its eclectic musical offerings, 103.3 Asheville FM also provides important local news and information, as well as talk programming that covers a wide range of topics, from politics and current events to health and wellness. The station's knowledgeable and passionate hosts are dedicated to fostering meaningful conversations and promoting a sense of community among listeners.

For those who prefer their radio in Spanish, 103.3 Asheville FM also offers programming in both English and Spanish, ensuring that all members of the community have access to the information and entertainment they need.

With its commitment to promoting local talent, fostering community engagement, and providing a diverse range of programming, 103.3 Asheville FM is a valuable resource for the people of Asheville and beyond. Tune in to AllRadio.Net to enjoy the best that this station has to offer.
Genres:
Alternative,
Blues,
Community radio,
Country,
Eclectic,
Experimental,
Folk,
Hiphop,
Jazz,
Rock,
Talk,
Freeform
You can listen :
David Bowie,
Radiohead,
Prince,
The Beatles,
Bob Dylan,
Nina Simone,
John Coltrane,
Miles Davis,
Kacey Musgraves,
Wilco,
St. Vincent,
The Black Keys,
Phoebe Bridgers,
Tame Impala,
Spoon,
The War on Drugs,
My Morning Jacket,
Thelonious Monk,
Joni Mitchell,
Bon Iver,
Iron && Wine,
Angel Olsen,
Kurt Vile,
Lucinda Williams,
Margo Price,
Brandi Carlile,
John Prine,
The Avett Brothers,
Jason Isbell,
Drive-By Truckers,
Sufjan Stevens,
Bright Eyes,
Fleet Foxes,
Sharon Van Etten,
Big Thief,
Vampire Weekend,
LCD Soundsystem,
Kendrick Lamar,
OutKast,
Run The Jewels,
Beastie Boys